Never in my wildest dreams, had I thought I would ever be online, let alone, build a website homepage? and learn all of this? Little ole "Moi"?
  And then the last thing on earth, you thought you would be getting, is an award from your friends and peers, for your labor of love.....for my little ole homepage? I was only going to make email signatures...
      I can tell you lots of hours, love of learning, determination, and dedication, go into making homepages, but the outcome is all worth the effort put forth. And a big "Thank you" to all of you, whose pages I have enjoyed so much, and learned from, and do look forward to all the new ones...
      It is with such gratitude, that I accept these awards, and dedicate them in "Honor" of my "Mother and Brother" whom we miss so much, and will treasure each memory shared...forever, and always,
where they remain,
in the deepest reaches of my soul...
your spirits alive with us
each and every beautiful day..



Trudy Petronella Brinkhoff



Wayne Elliott Northrop

         My first award received is from Slo-Hand46, and I thank you for this honor on June 7, 1999. Thanks Slo-hand46, and Jan, please click on the award, (fitting for me, as a "Sag")., and visit a great site, Haunted House fun, interesting, and much more!




       Then my second award is from Amber at Amberwords Pages" on 6-9-99, for the "Charming Site Award", which I also love and wish to thank her for....
Please click on the award to visit this great site of poetry and inspiration..






       This award I received from the "Charmer" himself on 6-10-99, a better friend, you could not ask for, and I thank you so much Duane, for all your help, above and beyond, and will treasure this award! Please visit his great site, check out his "Random Thoughts" pages, his "Memorial Day" tributes and much much more...Make sure to check out his "Wish I were 6 again" page!...







      This award I received from "Storm Cloud", on 6-11-99, which was a great surprise, "Thank You" Storm Cloud, please take a tour of his site, by clicking on this great award, his site is so much fun, and unique, love the graphics, music, and then some!









     This award I received on 6-12-99, from the "One and Only" Warp-Speed, and I accept this with great honor, coming from one, who has taught all of us so much, with his site, please click on this award, and pay a very worthy visit to Warp-Speed's Help Site....thank you!









    This award I received from Sharon, on 6-19-99, and thank you again, for this award, love it! Please visit her at "my'lil grass shack"!! and let her take you "Aloha" country...




          This one I received from "Denim Dee's "lil Country World", on 6-17-99. Thank you Dee, and love your cowboys, and, the guys will love the cowgirls, and rodeo pages! Stop by and visit Dee, click on this award, and it will whisk ya there!



          This award I received from "Christina's Castle" on 6-26-99, and love it Chris, thank you again! As the others, click on this award, to visit Christina's Castle, and happy hunting!! And a note here for all to take some time out, to visit the "webtvkids" discussion group, and devote a little time, and help, and also safetywatch to make sure all posts are worthy of our kids. thanks.




This latest award was received 10/15/02 from Bailey. Be sure check her website, "The Gazebo" for some beautiful 3D images. Thank you Bailey. Diamondeve would have been proud to receive this award.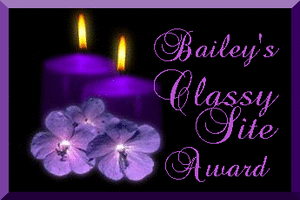 Here are the Banners from "Diamondeve's Orient Express", for you to choose which you like from, if you wish to link to my page, please use the any of the following


Average size is 400x68.
  Here are the Banners for you
most made by my friend "RC"
now in business on the Net.
On these I added
the attributes
width=350 height=100




pagodagoldban.gif






DEbanner1.gif






DEbanner3.gif







Thanks "RC"for all your hard work!!
and hope your new business is doing great!!
This is his old banner,
not to click on, but for "Old Time Sakes"

    

Thank you Sharon for the "Gold"!
and everything else!


   Please take time to visit Sharon's beautiful site, and her great pages of graphics!



Take a moment
to sign the dreambook









copyright © 1998 - 2000
Diamondeve's Orient Express
Page dezigns & Layouts
All Rights Reserved.




"Follow your heart, and your dreams will follow..."